HARANA KINGS is the result of Florante Aguilar's search for haranistas as chronicled in the documentary film HARANA. They represent the truest practitioners of the vanished custom of Filipino serenading when men sang underneath the window at night to introduce themselves to a maiden. About fifty years ago, Felipe Alonzo, Celestino Aniel and Romeo Bergunio were active participants of this once-popular courtship ritual and are among its last surviving practitioners.
Harana Kings debuted their album Introducing the Harana Kings in 2012 which lead to major performances including the Hollywood Bowl in Los Angeles, CA , San Francisco, Bay Area and Busan South Korea. The Harana Kings has also been featured in many television programs both in the Philippines and internationally.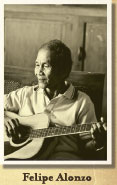 Born in 1934, Felipe Alonzo hails from Bantay, Ilocos Sur. He is well known in his community and is often seen performing around the city of Vigan during Christmas and town fiestas. He learned many of the songs when he was growing up performing in sarswelas, which he refers to as "entablados" – live comic operettas performed in the town plaza. In 1965, Mr. Alonzo, who is a self-taught guitarist, recorded Ilocano haranas for Villar Records. He made his livelihood as a tricycle driver in Vigan for over thirty years.
Mr. Alonzo passed away in March 2013. He was 78.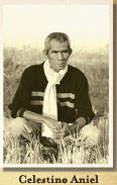 Celestino Aniel was born in 1946 in the town of Naic, Cavite. Mr. Aniel learned many popular songs through the radio and recordings from the 1950s to the 1970s such as those of Ruben Tagalog, Larry Miranda, Ric Manrique, Jr. and Cenon Lagman. Aniel's singing style is also a nod to popular crooners such as Bing Crosby, Nat King Cole and Perry Como, a style that was adopted and incorporated into harana during American occupation in the 1940s. Mr. Aniel is often seen singing around his hometown for friends and small gatherings.
Mr. Aniel passed away in September 2012. He was 66.

Born 1946 in Maragondon, Cavite, Romeo Bergunio recently won first place in a harana singing contest for seniors in his hometown. He learned from his father and grandfather many olden and unknown songs not often heard on the radio, thus preserving the songs completely through oral tradition. He specializes in kundiman songs – both in its rudimentary form as well as the more formalized structure championed by Philippine composers such as Nicanor Abelardo.
Mr. Bergunio has recently retired after years of making his livelihood as a fisherman because "there are no more fish to be caught" in the rivers and open waters.
Florante Aguilar is one the leading figures championing Philippine music art forms in the US and international markets today. He advances and popularizes Philippine music through the medium of film, recordings and live performances. His arrangements and compositions successfully craft the right balance between respect and redefinition of a tradition.
His constant search for a tradition-based contemporary Filipino sound led him to champion harana music – songs used in the now-vanished Filipino courtship ritual of serenading, and the subject of this film.
As a composer, Aguilar uses strong Philippine motifs in a modern context, and has been granted numerous composition awards from prestigious institutions.